A Day in the Puget Sound (Chowder)
What comes to mind when you picture Washington State? Juicy red apples? Miles of farmland? Or perhaps, the western part of the state– Pacific Ocean salty air, moss covering everything, and the chance to spot an orca tail breaching the surface to wave hello! For many, the Puget Sound is the heart of Washington State and the place they call home.
A 1330 mile long estuary, the Puget Sound runs from the northern boundary of Admiralty Inlet all the way down to the city of Olympia! This region brings a lot of diversity to Washington, not only in ecology, but in business, culture, and seafood.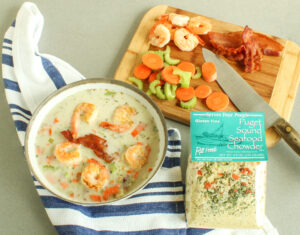 In honor of all that the iconic Sound brings to Washington, we named one of our most popular soups after this powerful area! Our Puget Sound Seafood Chowder is one we like to highlight every summer. The soup is true to its namesake with staples of potato, celery, onion, and with strong flavors of garlic, thyme, and dill that pair perfectly with seafood additions like shrimp, crab, clams, or even salmon! Just like the soups we offer, our Seafood Chowder is super easy to make anywhere. Including vacation!
We have some amazing retailers throughout the Puget Sound that carry our soups, and whether you are a resident or you plan to take a summer family vacation to the area, we thought we would help you make an easy, delicious seafood chowder dinner, but in way where you can shop and explore the Puget Sound along the way!
ONE STOP SHOPS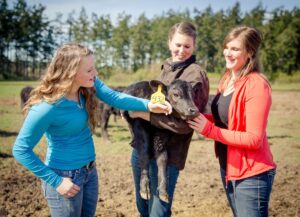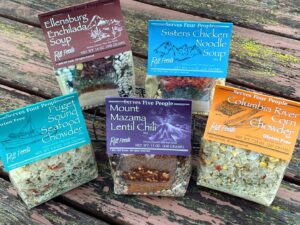 Photos courtesy of 3 Sisters Market
Island Living
Planning to be in the Coupeville area? Make sure to stop by 3 Sisters Market, a shop full of locally sourced products! As the name suggests, 3 Sisters was founded by three sisters in 2013, aiming to provide the best cuts of meat. In addition to the high quality meat they carry, 3 Sisters has a selection of Rill Soups – including their favorite Puget Sound Chowder! If you are planning to visit Whidbey Island, stop by 3 Sisters Market for a package of Chowder, along with some locally sourced cream and a can of mussels to make that soup extra creamy and tender! Don't stop at groceries, make a day of it! Take the ferry to the island and book a whale watching tour or rent a boat for the day. If you call 3 Sisters Market ahead of time, you may be able to take a tour of the property and learn about the history of their establishment!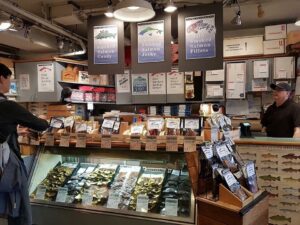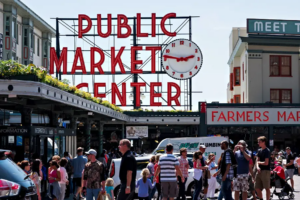 Top photo courtesy of Tripadvisor
Bottom photo courtesy of pickeplacemarket.org
Seattleite Salmon
Perhaps your day in the Puget Sound is centered around the ever popular and vibrant Seattle area! If that is the case, a must-visit is Totem Smokehouse, a family-owned shop crafting wild smoked salmon for over 40 years! A shop for all things seafood, Totem's offers a wide variety of salmon – from canned, to jerkied, to candied, plus, they carry our Seafood Chowder! Totem's canned/sealed salmon options are a great choice if you are visiting Seattle, as they make it easy to prepare your soup in a hotel kitchen or your AirBnb! Located in Pike Place Market, a visit to Totem's puts the family right in the heart of Seattle. Take some time to explore the stalls in the market, to gather local goods and maybe some fresh herbs to add to your soup! While at Pike Place, don't miss the chance to take the family to the famous Gum Wall, for a fun (and sticky) memory the kids will love!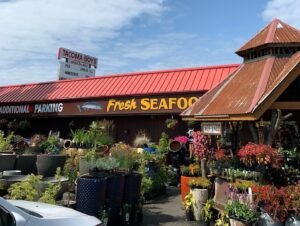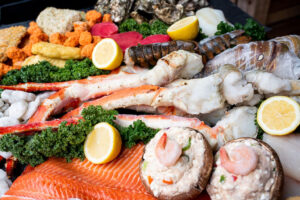 Top photo courtesy of Foursquare City Guide
Bottom photo courtesy of Tacoma Boys.com
Keepin' it Fresh
Nothing says summer like a trip to the waterfront with a picnic basket full of fresh produce and Chowder for lunch. If you find yourself in Tacoma, Wa, plan a family outing to Point Ruston waterfront, located right on the edge of Commencement Bay, with views of the water, the majestic Mt. Rainier, and plenty of huge ships at the dock. We suggest filling your picnic basket at Tacoma Boys, a one-stop-shop focused on products that are ethically sourced and fresh as can be! Tacoma Boys carries several of our soups, including–you guessed it–our Seafood Chowder! Alongside fresh carrots, herbs, and dungeness crab, or lobster tails, preparing lunch will be no problem. Go a little crazy and stock up – it's ok to be a little 'shellfish' sometimes! 
THE FEEL OF THE SEA AT HOME
After your trip, you may find yourself returning home and missing the salty sea air and sound of gulls overheard. Even though you may not be in the Puget Sound anymore, you can still experience the essence of the Sound with our Puget Sound Chowder. Fill your home with the aromas of the sea and come together at the dinner table to remember all the wonderful memories made with your family this year. You might even start planning your next trip to the heart of Washington State, ready to discover even more of the Puget Sound!