In December 1995 we developed 5 all-natural soup mixes. That very same month we sold our first bags at a local holiday bazaar. For the next 12 years, we sold Rill's soups in our small Mom & Pop store. We have expanded to 23 different flavors in two convenient sizes – Large for Families and Small for Two people.
We take pride in offering a product that is flavorful & convenient but also healthy.
14 Naturally Gluten Free Varieties

9 are Vegan & contain no sugars

Flavors come in two sizes, Family Size and a Two Person Size

All Natural – No anti-caking agents, artificial flavors, artificial colors or GMO's
If you currently sell our products thank you! If you need any help moving more product or answering customer questions let us know, we're committed to helping you succeed.
If you don't currently sell our products but would like to, call us at 509-964-2520 or email soups@fairpoint.net and we'll get you set up. We are always excited to talk to stores that are looking for healthy, tasty and easy meals.
"I have had nothing but awesome feedback from my customers who have purchased your soups. Once again, Thanks!! Shauna"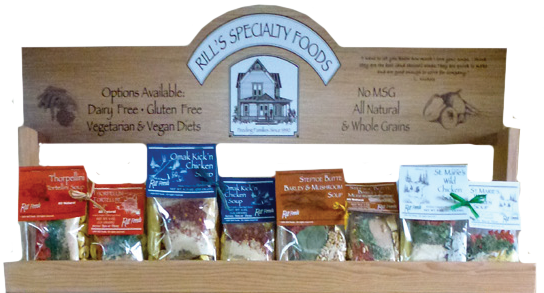 Visit our order form page and fill out the form. We will follow up with you to confirm your order. 
For more information, take a look at the links we have below.