Amazing Red Lentil Soups!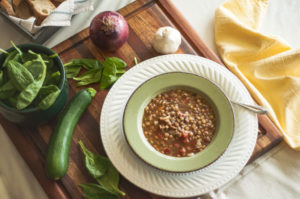 Do you suffer from lentil confusion? It's a common issue that more and more Americans are facing! But not to worry, Rill Foods has the cure!
We have amazing vegan and gluten-free red lentil soups! So easy and so healthy, you'll wonder why you haven't used lentils more!
Why Do We Love Red Lentil Soups?
So what makes red lentils so great? Red lentils have the sweetest and nuttiest flavor of all the lentils. They are also packed full of vitamins and minerals like Folate, Vitamin B6, Iron, Magnesium, Phosphorous, Potassium, Zinc, Copper, and Manganese just to name a few. They are also a great source of fiber and protein while remaining low in calories. Red lentils have been known to have antioxidant, anti-inflammatory, and neuroprotective effects according to Healthline.com. When consuming the recommended 3 cups per week on average for an adult, lentils have been shown to stop cancer cell growth, improve blood sugar levels, as well as maintain healthy blood pressure levels.
While red lentils have amazing health benefits, it is worth mentioning that they can contain low levels of antinutrients that can impair protein and specific vitamins from absorbing into the body, though this is typically seen in diets that contain far more than the recommended weekly value. You can read more about these here.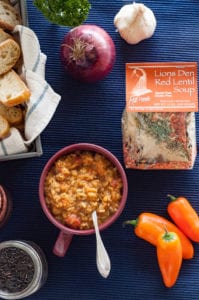 So how do we use more of these amazing legumes?
When you're looking for something special, nutty wild rice and creamy red lentils hit that mark every time! To make this red lentil soup even more delicious, we love to add about 2 cups of fresh veggies, like leeks or carrots, and 1 cup of fresh chopped tomatoes to the soup. Cook it on the stove for about an hour, then add about 1 tablespoon of lemon juice right at the end! The lemon juice balances out the nutty rice in such a nice way, it's making us hungry just thinking about it, plus it's vegan and gluten-free!
If you're looking for something a little different, the Blue Mountain stands apart from other red lentil soups. We have paired lentils with potatoes, and filled it with Italian spices! To boost the Italian flavors, we love to add Italian sewed tomatoes and spicy kielbasa and cook on the stovetop for about an hour. When the soup has about 10-15 minutes left, we love to add some zucchini, spinach, and mushrooms. If you're feeling it, you could even add a little milk to make it a little more creamy (or if the sausage was a little too spicy).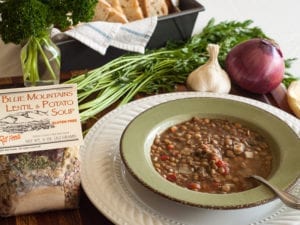 Red lentils AND brown rice?! That's right, this one here packs a nutritional punch! It's so good, there's a reason it's our best-selling vegan soup! To keep it vegan, we love to add about 2 cups of chopped tomatoes, plenty of carrots and leeks, plus some browned tofu or another favorite meat substitute (or bacon if you want to add some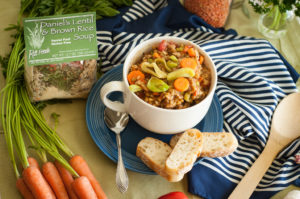 meat)! Only taking about 20 minutes in the instant pot, this one is a healthy and convenient weeknight dinner. Nutty brown rice and sweet red lentils are an amazing combo!
Red Lentils make weeknight dinner easier and healthier than ever! Shop RillFoods.com to have your soup come straight to your doorstep!
Fun Fact: lentils are such a crucial part to the Indian diet, many dishes you will find in Indian cuisine are full of lentils! The Hindi word for Red Lentil is Masoor Dal!