How to Make Soup for a Crowd: Tips and Tricks for Large Batches
Soup is a comforting and nourishing dish that's perfect for feeding a crowd. In this post, we're sharing tips and tricks to make soup for a crowd cheaper and easier. Including, how to choose the right recipe, essential equipment, and tricks for prepping ingredients in large quantities.
What to consider when choosing a recipe:
When choosing a soup recipe that can be easily scaled up for a crowd, it's important to consider a few factors. First, look for recipes that don't require a lot of last-minute preparation or assembly. We avoid soups that need to be blended, pureed or have ingredients that need to be added in a sequence.  It's also a good idea to choose recipes that use ingredients that can be purchased in bulk, such as dried beans, lentils, or pasta.
When cooking for a crowd you will almost always have to make an adaption to suit different dietary restrictions. One of the great things about soup is that you can easily make substitutions that may not be suitable for certain diets. For example, if you're cooking for a vegetarian crowd, you can use vegetable broth instead of chicken or beef broth. If you're cooking for those with gluten allergies or sensitivities, you can use gluten-free pasta or rice instead of wheat-based pasta.
The right equipment:
When making soup for a crowd, having the right equipment is essential to ensure that the cooking process goes smoothly. However, you don't need to break the bank to equip your kitchen for soup-making. If you don't have a large stock pot, you can also use multiple smaller pots and combine the soups at the end. With a little creativity and resourcefulness, you can make delicious soup for a crowd with the tools you already have on hand.
Tips to save time and money: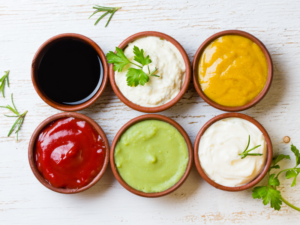 When making soup for a crowd, purchasing ingredients in bulk is a smart way to save money. Consider visiting a warehouse store or buying from a restaurant supply company ingredients at a discounted price. If you know that you will be hosting a large crowd and you have a few months to prepare, make sure to shop the deals at your local grocery stores. Once you buy the ingredients, simply prep them and freeze them until you need to use them. You can also save time by prepping ingredients ahead of time. For example, you can chop vegetables the day before and store them in the fridge. You can also cook meat or beans ahead of time and freeze them.
When it comes to serving soup to a crowd, there are a few tips and tricks to keep in mind. First, consider using a slow cooker or soup warmer to make it easy for guests to serve themselves. To add some variety and flavor to the soup, consider providing a selection of toppings and garnishes for guests to choose from. Some of our favorite garnishes include, shredded cheese, sour cream, croutons, or fresh herbs. Take a look at this article for more garnish inspiration. It's important to store any leftovers safely. Be sure to transfer the soup to an airtight container and refrigerate or freeze it as soon as possible. If you're planning to freeze the soup, consider portioning it out into smaller containers for easy reheating. When reheating, be sure to heat the soup to at least 165°F to kill any bacteria.
Our two favorite recipes:
Chili on Baked Potatoes
You can use your favorite chili recipe, but we use our premade kit for the Mount Mazama Lentil Chili.
The morning of prep your potatoes. Read this article to learn how to batch cook a ton of baked potatoes at once. You will want to put your potatoes in the over 1 hour before you expect your guests.
Throw your soup on the stove and let it slow simmer. Once you have your potatoes cooking and the soup on the stove, prep you toppings. We like to use standard baked potato toppings; green onions, shredded cheese, cream cheese, bacon bits, diced onions, salsa, pico de Gallo and always Frito chips!
Once the soup is done turn it down to low and keep the temperature about 165°.
Once your guests arrive pull the potatoes out of the oven and set out your toppings for a quick and easy feast.
Tortilla Soup
We love a good tortilla soup when serving a crowd. The soups can be garnished similar to the baked potatoes we talked about above so everyone can dress it up how they like. It's also slightly spicy for the heat lovers but mild enough for be a crowd pleaser.
We use our Tacoma Tortilla Soup Mix when preparing soup for a large crowd.
Overall, making soup for a crowd can be an easy and satisfying way to feed a large group of people. By following the tips and tricks outlined in this post, you can make the process even easier and more enjoyable. We encourage you to try making soup for your next gathering and see how delicious and satisfying it can be!