New Holiday Tradition: Thorpellini Tortellini Soup
Snow is falling, lights are twinkling, and everything is merry and bright, which means the holiday season is upon us! These memorable, frosty days fill our hearts with joy and get our tummies rumbling as the smells of Christmas invade our senses.  This year, add a new holiday tradition– making tortellini soup with your friends and family!
Every year during the holidays, the Rill family comes together to create our beloved Thorpellini Tortellini Soup, and now your family can join in on the fun. Our Thorpellini soup is special, not only because it was named after our beloved hometown, but also for its importance to our company. This soup is the original soup that began our business and continues to be our top-selling product!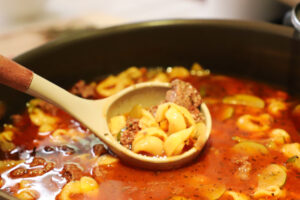 Are your days already filled with holiday plans? Feel free to throw this soup in the instant pot for a quick and easy meal that will be ready in minutes. You can also use a slow cooker to prepare our Tortellini soup, if you plan to stay home sipping hot cocoa and watching Christmas movies. The longer this soup cooks in the slow cooker, the more the tortellini will expand!
To show your holiday spirit (and to make this soup extra vegetarian friendly), skip the sausage and add some sliced zucchini and bell peppers for a pop of color. Get the whole family involved by making your own pretzels or breadsticks to pair with your tortellini!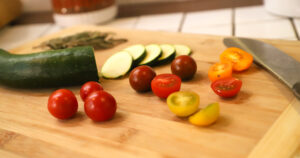 The holidays are a time meant to spend with loved ones. Make this Christmas special by joining the Rill family in their holiday tradition of cooking Thorpellini Tortellini soup. Order our Thorpellini Tortellini soup mix here!