Our Favorite Crockpot Potato Soups
As our favorite Hobbit Samwise once said: "PO-TAY-TOES Boil 'em, mash 'em, stick 'em in a stew!"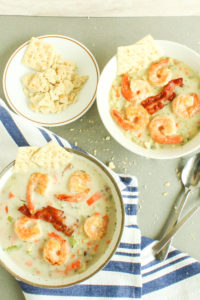 I think he may be onto something there. Potatoes are so versatile you can do just about anything with them. They can also take on just about any flavor you want!  This is why we love crockpot potato soup so much! Mexican-style? No problem! Sweet corn with your potatoes? Delicious! Are you feeling something rich and creamy to put salmon in? You got it!
Crockpot soup will always be classic! But they don't happen all of a SPUD-den!
Just throw all your potato soup ingredients in, set it to low for 2-6 hours, and that's it! The hardest part is smelling all the wonderful smells and knowing that your soup isn't done yet! But rest assured, because it takes longer than a stovetop, there are some very cool benefits. You don't have to keep an eye on your soup, you don't have to stir, or make sure it doesn't boil over! And not only will you come home to warm soup at the end of a long day, but the added time allows all the flavors to meld together in a way that doesn't happen in 20 minutes.
Keep your eyes PEELED to see our favorite potato soups!
Why are these potato soups our favorite? Each one is not only unique but they can be customized any way you want! Plus, they are naturally gluten-free and dairy-free. Want to know the best part? VERY LITTLE PREP WORK! That's music to our ears! No peeling and chopping potatoes. No guessing which spices would work best and how much to use. You don't always have time for that! Just dump all the contents of the soup mix and any add-ins in the crockpot along with some water and you are golden!
Best Potato Soups for Crockpot:
Classic Potato Soup:
Basin Potato Soup (The classic beauty)
Ah, the Basin! Classic, iconic, the perfect canvas for whatever you're feeling! We love to add 1/2 cup kielbasa sausage, some carrots, and butternut squash, with the potato soup to the crockpot. Let it do its magic, and when it is done, we add 2 cups half and half! Serve it with some nice french bread! It's the classic done right!
Sweet Corn and Potato Soup: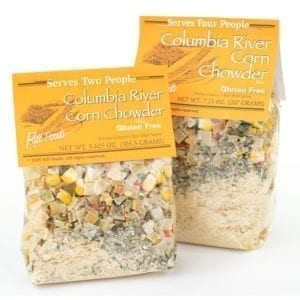 Columbia River Corn & Potato Soup (such a sweetheart!)
Just as impressive as the Columbia River itself, this corn and potato soup is just as sweet as can be! To the crockpot, we like to add 1/2 cup chicken, 1/2 cup good quality white wine, and maybe a can of corn if you really want some sweetness. Serve it up with some rich buttery pretzel rolls
Mexi Chicken and Potato Soup:
Buena Mexi Chicken & Potato Soup (spice up your life with a little jalapeno and cumin!)
So you want potato soup, but you want a little twist? The Buena is where it is at! For this crockpot soup, we add shredded chicken and the soup mix and cook on low 2-6 hours. When it's done, we add some shredded cheese, sour cream, cilantro, diced onions, and diced tomatoes to enhance the flavors while bringing a fresh pop! Serve this one with some tortilla chips!
Creamy Seafood and Potato Soup: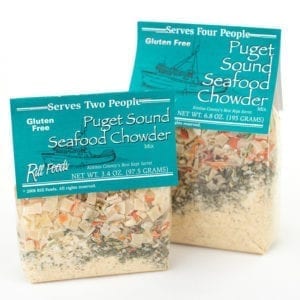 Puget Sound Seafood & Potato Soup(hearty classic with our mix of secret spices)
Ah the Puget Sound, a Washington icon. There are so many ways to dress up a seafood and potato soup! In a crockpot, mix together smoked salmon, carrots, and onion with the soup mix. After the soup is done, top with bacon bits (the more the merrier) and sharp cheddar or gouda. Serve with crispy sourdough bread!
Don't just be a hesi-TATER, try out one of these SPUD-tacular soups! For full cooking instructions have one of these delicious soups arrive at your door, roll on over to RillFoods.com