A Warm Welcome Back: Caribou Creek Heirloom Bean Soup
As the leaves outside begin to turn and the weather starts to get a little cooler, it's time to snuggle up with a mugful of warm soup and a blanket to watch the start of the season change. To help celebrate the start of fall we are welcoming back a classic that's making a comeback—our Caribou Creek Soup!
This soup has a history as heartwarming as its taste! Caribou Creek was named after the beautiful creek that flowed behind the original Rill Family farm, when Rill Foods owner Ninon was young. A tribute to the wonders of Washington State, this soup holds up to its name!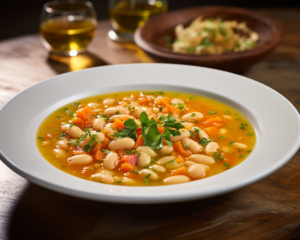 What makes this soup so special, you ask? It's all about the flavors packed into each spoonful. You'll find the wholesome goodness of a variety of beans, the aromatic blend of sage and bay leaf, and the zesty kick of mustard—all coming together in a warm, hearty bowl of soup. Over the years, our Caribou Creek soup has evolved, and now it's making a triumphant return as a vegan delight. Gone are the days of animal stock; this soup is now entirely plant-based, perfect for those seeking a meatless option without sacrificing flavor.
Looking to elevate this already fantastic soup? For an extra burst of freshness and crunch, consider tossing in some diced fresh bell pepper and a sprinkling of chopped parsley. These additions not only enhance the visual appeal but also add layers of flavor that will leave your taste buds dancing. But that's not all! If you're in the mood for some cheesy vibes, we've got a trick up our sleeves—nutritional yeast. This stuff is like the secret sauce for that cheesy flavor without any dairy. Just sprinkle a little on top, and voilà! You've got yourself a bowl of vegan soup that's as cheesy as it is delicious.
So, are you ready to give this classic a big, warm welcome back into your kitchen? Caribou Creek Heirloom Bean isn't just a soup; it's a tasty reunion you won't want to miss. Whether you're sharing it with loved ones or enjoying some "me time," it's the perfect way to embrace the cozy vibes of fall. Don't wait a second longer— relive the excitement of this delicious comeback by ordering a package of Caribou Creek soup here!