Get Your SOUP-erbowl Party on with Rill Foods
Although the holiday season has passed and we are well into the new year, there is no reason to stop gathering. Let's continue to celebrate each other through our ups and downs! Nothing says "party" like a bowl of warm soup to share, no matter what you are celebrating.
Touchdown with Tacoma Tortilla Soup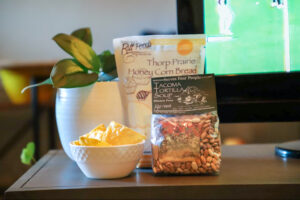 Our Tacoma Tortilla soup will have your guests feeling like they scored with mild heat and flavors galore. This soup was named after the city of Tacoma, WA, whose town motto became "City of Destiny " in 1882. The Seahawks weren't destined to make it to Superbowl LVII, however, this easy tortilla soup is the perfect, healthy meal to share, as we continue to cheer and revel in our #12 pride.
To really turn up the heat on your get-together, add some chili peppers into the mix. Red peppers will give your soup a kick of heat, but will also create a sweeter taste when simmering with the other ingredients. A green chili pepper will create a herby aroma with a more subtle spice. If you want a soup that has both herby undertones and some heat, try adding both green and red chilies to the pot!
Nothing pairs with soup quite like bread, which is why our latest product, Thorp Prairie Honey Cornbread is a great side dish for your party. Our sweet cornbread can be made into a loaf or into muffins to easily be shared. With a cook time of only 18-25 minutes, you can throw these in the oven right before kick-off and have these ready before halftime without even missing a play.
Whether you are a football fan or not, our Tacoma Tortilla Soup and Cornbread provide a nutritious and delicious meal that all your loved ones will enjoy! Order our Tacoma Tortilla Soup here and click here to purchase our Thorp Prairie Honey Cornbread.